Hot denim fashions for this summer
This summer, denim is hot once again, with a huge number of styles that are on trend. From the tried and trusted classic original fit jeans perfect to accompany a mens designer t shirt by EJ menswear to colour-blocked or embroidered skinnies, there's something for everyone.
Washes, treatments, and embellishments are all big news, as are classic silhouettes and androgynous shapes. This summer the focus is on fit and how you wear your jeans, and double denim is not considered a fashion crime any longer.
Denim En Vogue
Over the last decade, denim has enjoyed something of a rebirth, with modern technologies and techniques allowing for softer, stretchier versions of the original stiff, rigid fabric. Fashion bible, Vogue, has paid tribute to denim this summer and their 50 Best Fall Runway looks give you a sneak peak into the versatility of this material.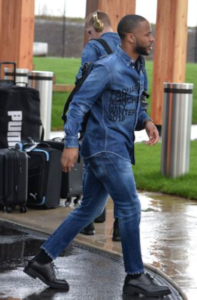 More Than Just Jeans
Denim dresses are particularly hot this summer, whilst denim jackets have evolved from the traditional collared buttoned up styles of yesteryear and are now taking shape as blazers, parkas and even waist coats. Denim has both a formal and a casual twist, and there are options for how you want to wear this incredibly versatile fabric.
Designer Denim
This season, denim is always featured on the runways of designers like Alexander Wang and Balenciaga and the fabric once again claimed its spot on the catwalk.
Designers have reimagined the fabric in so many ways, from stitching together artfully skewed seams to adding colour blocks, embroidery, lace, and other adornments. Even denim suits have become trendy. Women also have the option of spray on tight skinnies or opting for the more casual and comfier boyfriend look. Rips are also big news and can be customised according to the wearer's personal style, giving them the opportunity to create their own bespoke pair of jeans.
One thing is for sure, denim is here to stay and it's a huge hit this summer!
About Author