The fabric that has made a difference in masculine proposals, weaves its trajectory for the next year. These are the knitwear pieces that make your style continue with a point –or several– based on elegance and sophistication.
They say that class is the only thing that cannot be bought or sold. At least that's what my grandfather always told me. Over time I have realized that all this was a lie. Having class is knowing how to adapt your style to any situation and for that… what do you have to buy? Knitwear. One of these makes you the most elegant, classic, or modern in the place depending on how you wear them on your incredible hanger: your body. The return of elegant men has been a reality throughout 2019 and it will continue to be so from next year.
Sweater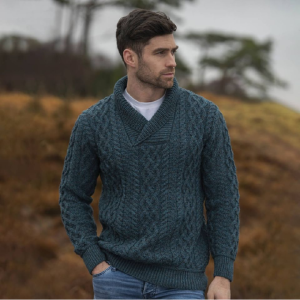 It has been an easy and elegant resource with which to surprise this year. In addition to having a top 5 basics: fine knit, cashmere, high neck, zipper, and thick knit. Their common denominator was It has been above all the beige color and with eights. Which has been chosen as the favorite by the firms, the catwalks, and the street style. It is essential that you add if you do not already have, each of these to your wardrobe.
Vest
It became a trend at the beginning of the year thanks to the work and grace of Alessandro Michele, who transferred it to the Gucci catwalk with designs with a retro aesthetic, such as the XL stripes in red and white or with sheep as defended by the singer Harry Styles -with permission of Lady D. For their part, the most powerful duo in the US, Ralph Lauren and Tommy Hilfiger, incorporated it into their collections of infallible basics and Ryan Gosling walked with it through the streets of Hollywood in an ' oversize' code and signed by Lacoste. How can we not keep it in the closet?
The cardigan
If you're from the 90s, you'll know that this garment, now called a 'cardigan' –because we're super modern and Anglo-Saxon–, is a "hard to beat" piece. Its supremacy, in terms of elegance, remains intact even though we see it less day to day. day. The key is to choose oversize pieces with a thick knit that serves as a pseudo-dress or bathrobe. David Beckham has been a user of this garment that resembles a casual coat. On the other hand, if yours is the preppy aesthetic, dive into the proposals of firms such as Hackett, El Ganso, or Scalpers.
The Teba jacket
The blazer is, among the most informal jackets, the most sophisticated option you can choose. It is about applying the classic heritage of this piece – which has been dressing the most elegant men for decades, executives from all over the world, and new wolves of Wall Street for decades – to your look. If you still have doubts about how to do it, you can take the example of the always elegant Johannes Huebl: with chinos, with jeans, with cargo pants… although if you look around you will surely find good references, it is not for nothing that it is one of the most popular jackets. popular in Spain It is an investment you must make. The reason? That this piece can be worn on formal and informal occasions in equal parts.
The Pole
"Above all, elegance requires suitable garments for each circumstance", said René Lacoste, one of the kings of good clothing and an undisputed icon of the early 20th century. He refers to the cotton piqué polo shirt but this 2019 has brought it back to life one of the icons of the 70s: the knitted polo shirt. An update of this garment is that thanks to its much thinner fabric, you can combine it with tailored trousers, jeans, or a suit jacket. Is it not clear to you? Discover how to make it part of your style with the combinations. You know, it's never late if the garment is good. And this one is.
You may like to read Tips to not lose style in winter
About Author