The maxi dresses are one of our best allies in summer. Impeccable fall models and fabrics, in smooth version or of striking summer prints, perfect for looking comfortable and stylish for 24 hours. Straps, shirts, shoulders to the air … the variety is immense and the sales are the best time to get you more designs.
Pati Conde By Dandara
The floral trend has inspired part of the collection 'Bars and Stars' Spring-Summer 2017, designed by Patricia Conde. Semi-transparent long dresses laden with color that you cannot miss in your suitcase for the summer holidays. Ideal this model in navy blue with yellow and red flowers.
Intropia
The romantic style is always present in the garments of Intropia. Ideal and with some air hippie is this maxi dress in white broken with garnets stripes and neckline of honeycomb perfect for the beach afternoon walks.
Guts & Love
Guts & Love re-stars the dresses with endless lengths of striking patterns and vibrant colors. Spectacular and very flattering is this design in yellow and green.
Maggie Sweet
Romantic chiffon dress with many fall with stamping of stars in white and navy, and details of tiptoe. A model of the Spanish brand Maggie Sweet perfect to look for 24 hours.
Dolores Promesas
Dolores Promesas always bet on long dresses as great allies of our outfits. This sophisticated oversize model of eye-catching black and white polka dots is perfect for battling hot days.
Wild Pony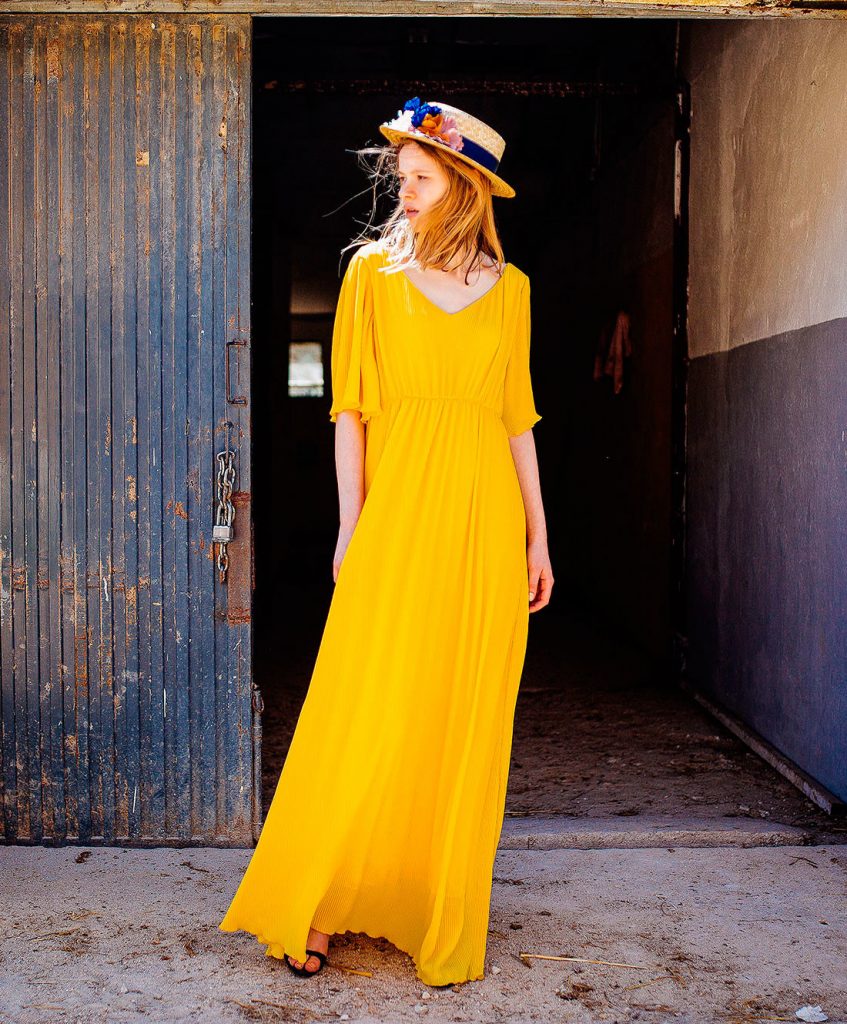 At Wild Pony we can find maxi dresses ideal for day to day as this flattering model in colo mustard that if you add some suitable and striking accessories make it a perfect party look.
Mioh
An elegant and romantic design not to go unnoticed in the most chic summer dinners is this long Mioh dress, made in tulle and embroidered with blue flowers.
You may also like: Lovely Pepa Collection, first fashion collection
Fetish Suances
If you feel like wearing a sexy look this cut out dress with red and pink flower print is perfect.
Benetton
For summer nights this Benetton option is sophisticated and sensual a lace and crochet design.
Intropia
Delicate flowers wear this price maxi silk dress with floral print and honeycomb detail. A very romantic and stylish model of Intropia.
Maggie Sweet
Bird print for this trim bodice dress and flight skirt with lace details in a romantic pastel blue Maggie Sweet.
H & M
Simple, comfortable and very simple. So it is this dress of H & M of shoulders to the air, the star tendency of this season, in military green and of very cool fabric.
Muotti
Prints of flowers and green and abstract prints in tones and purple shades dress these maxi dress so beautiful, without magas, with belt loop of the same fabric and impeccable fall of Muotti. Two designs ideal to look for the day and achieve a very stylish outfit.
Dolores Promesas
Striking shirtdress of maxi flowers in blue and yellow shades of Dolores Promesas. Ideal for parties, day look and even an eventuate.
About Author