Trendy Summer Outfits And Stylish Bows Of The Summer 2018
Summer gives us a great opportunity to open up to others in a new and interesting image. In the warm season, more than ever, I want to try on light beautiful new clothes, so all experiments are done at ease. Do not miss the chance to surprise others with impressive outfits, selected with regard to the latest trends of windy capricious fashion.
Fashionable summer outfits 2018 are bright and frank. Fashion designers offer intriguing images for girls, subtly emphasizing the dignity of the figure, but not passing the edge of vulgarity. Our review presents a selection of stylish bows that will make the summer brighter for a woman of any body size and age.
What colors are in fashion in summer?
The popular colors of the summer season are a warm gamut of yellow, red, orange and their bold combinations. Combining the colors, do not be afraid that the outfit will look too colorful and impudent. Young fashions offer to emphasize the romantic age of pink gamma clothing. Which of the 50 shades of pink you prefer: "tea rose", soft powder or rich fuchsia, depends entirely on personal taste preferences.
The subtle French charm of the summer image will give pastel shades. They will create a refined mood and deserve sincere compliments of your tenderness and sophistication from the stronger sex.
The white color is always in demand in the hot season. Agree that the snow-white dress or sundress is a special chic. Fashionable white outfit – not only clothes for the ceremonial release. These are sports activities, outdoor recreation, a romantic dinner, and as a blouse or top – an indispensable attribute of the suit business lady.
The white color is for ladies of any age without exception. If the figure is a little plump, it is not advisable to clothe it from head to toe. Dilute outfit with details or accessories of any available color, because white is friendly to all shades.
Dress in summer outfit 2018
Nothing paints a woman in summer like an open dress. Mini will emphasize the beauty of the owners of chiseled figures, bare shoulders – again to the point. In the fresh collections, both minimalist silhouettes of dresses and feminine models decorated with frills, ruffles, bows, fringe, voluminous appliqus, ethnic embroideries, and artificial flowers are widely represented.
In one fashion experts are unanimous: in the trend of free cut. Such loosely tailored dresses in the latest collections are apparently invisible. In the summer of 2018, you will be on top of the style if you pay attention to the following models:
Dress shirt. Among them are long-sleeved shirts, and dresses in the form of a peasant women's shirt, which were worn on the hot days of harvesting and mowing. As you can see, nothing is new under the Moon: such outfits are inspired by images of the distant past.
Asymmetrical cut. Fantasy designers know no boundaries and sometimes goes incredibly far. If you are not alien to shocking and extravagant outfits, this is your choice.
Balloon. Skirts and balloon dresses are hard to miss on a fashion show. New summer collections have an open bodice and are decorated with fancy prints.
Kimono. Oriental themes are the favorite style of many leading designers, so the original models on the themes of Japanese kimono get a new sound from year to year.
Summer sets on the basis of dress designers advise being drawn upon the principle of eclecticism. Based on this trend, add your favorite trousers in cool weather to the dress, which are combined with it in style, and the fashion outfit is ready!
The combination of an elegant top with sports shoes, shocking our grandmothers, is just gaining popularity. Short summer dresses almost always look organically complete with lifestyle shoes.
But in order to combine a successful ensemble with dress-maxi sneakers, you will have to experiment. However, if you look at the photo reports of fashion journalists, it is quite possible to make such a bow tasty! Many successful outfits are assembled with a maxi dress, having a slot at the back or cuts on the sides.
Summer bows with sundresses
Sundress is present in the wardrobe of any woman who goes to the seaside resort. This piece of clothing perfectly emphasizes the beauty of the tanned body, revealing its smooth curves to the maximum. Beach options sundresses 2018 balance on the thin line between the "modest mini", when the bottom opens his knees, and "bold mini", barely covering the buttocks.
For those who hesitate in choosing the length, the trendy style of the mallet is of interest. Multi-level hem – an attractive offer for true originals.
Modern designers do not agree with only the beach concept of a sundress. They propose to consider this elegant outfit as evening wear. Do not miss the occasion to show off at a hot party in a beautiful air sarafan of patterned chiffon, decorated with exquisite laces. In addition to the ever-relevant classics, boho and retro styles are recognized favorites of this summer season. In the photo – fashionable outfits 2018 with evening sundresses.
Stylish looks with shorts
By the number of likes, shorts can compete with sundresses, but its better if both your participants have a stylish summer marathon in your closet.
Practically, models from natural fabrics are traditionally chosen by women as casual wear. Cotton and linen shorts of sunny yellow, lilac, turquoise, and coral shades became a hit of the show. In the fashion strip, small peas, flower motifs, which in summer are perceived "with a bang."
Denim mini shorts in torn and frayed performance are not inferior to their positions that year in a row. An interesting summer novelty of 2018 has become a specimen with gradient color. Among the other models is to provide shorts:
high waisted;
trimmed with lace;
shorts-overalls;
safari and military;
leather
For the evening option, fashion designers offer satin shorts decorated with rhinestones and sequins. Practically everything is like the top for this versatile garment. Supplement your favorite blouses, T-shirts, shirts, jackets with top shorts and the set will instantly play in a new way. The main thing – do not forget about the style and color matching.
Summer outfits with skirts
Trendy models of skirts will teach fashionistas art how to open the legs with taste. What fashion trends dominate today in the field of the most democratic women's clothing?
Modern mini. When putting on a mini-skirt, be careful with the choice of the top. He must balance the openness of his feet with a calm silhouette, a noble texture of the fabric. Defiant cleavage is best reserved for longer options. The outfit you create should look feminine, perhaps sexy, but not defiant. In the summer season of 2018, stylists recommend wearing mini-skirts in combination with a crop top or jacket.
Midi skirts. A win-win for summer, which can be put on, as they say, "in the feast, and in the world." High-waisted remain in fashion, as new models are to highlight fashion models with fringe, national and floral prints. Depending on the situation, midi length skirts can be combined with both high heels and democratic sneakers or loafers.
Maxi. Fans of skirts on the floor are advised to look at the silk models often flashing in the shows. They will make your image airy and will bring in it notes of light Parisian charm.
Bouffant skirts. Almost all glossy magazines are full of fashionable outfits with skirts the sun. Coming to us from the romantic sixties, they became the epitome of retro-style. Today, tulle skirt skirts look so gentle and elegant, that immediately attract the eyes of passersby. You can combine them with a variety of things: from elegant blouses and jackets to casual sweaters and sweatshirts.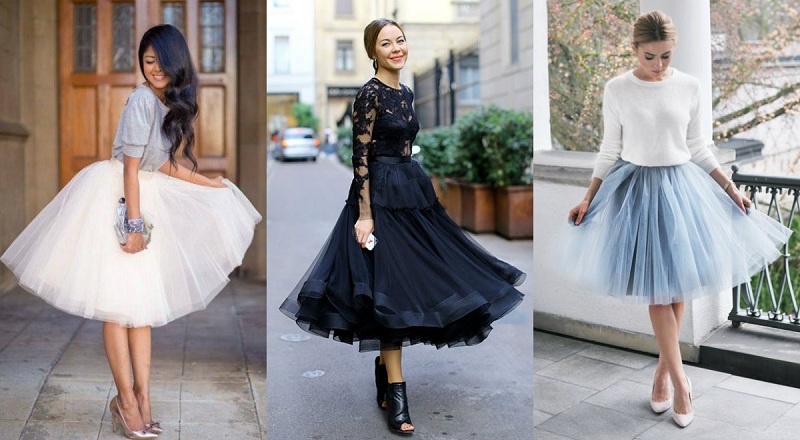 Summer sets with tunics
This amazing piece of clothing free cut does not need advertising. The traditional attire of proud Romans has firmly won the hearts of fans of fashionable and comfortable attire. In the season 2018, designers' fantasies are concentrated in the field of plant and landscape prints, experiments with cut and decoration. Trendy onion with tunic looks especially fresh due to the abundance of styles. The main trends of the latest defile:
tunic-kimono;
multi-layered with an abundance of ruche and frills;
tunic of colorful shawls;
grid;
black and white ornament;
lacing at the waist.
In youth ensembles, there is a tendency towards the patchwork technique: bright stripes and squares have become the original accent of many impressive outfits. For beauties with lush shapes, couturiers offer to opt for a tunic-shirt oversized, asymmetrical product or trapeze.
Fashion outfits for women 40+
Ladies of elegant age, many bloggers are advised to look at the classic style. We advise you not to rush to apply this conservative approach in practice. With age, the desire to dress beautifully acquires new facets, and if you are a little over 40, it is time to find your own unique image. For this summer – the most successful time. Here are some valuable tips from positive fashion experts:
An elegant summer dress should attract the eye with one catchy accent. This may be a fashionable pattern or color, spectacular brooch. Short mini and too open neckline are appropriate only as a beach set.
If we talk about classics, save it for an office setting. Light suits with trousers and skirts of medium length will emphasize your respectability.
When choosing pants for a summer casual wardrobe, focus on the quality of the fabric and the color scheme. Preferred natural, lightweight materials in pastel colors. Perfect noble colored linen. Light, light denim always stays in trend.
On the beach are appropriate shorts of medium length from the same fabrics. Do not forget about hats. Wide-brim will add a fair amount of elegance, straw trilby – intrigue and good mood. Gorgeous outfits can be created with textured denim dresses.
After reading the above tips, do not follow them implicitly. Connect your own style and sense of beauty to stylish trends. This will help to live a beautiful summertime on a fashionable wave.
About Author