20 Style Tips For Curvy Women
Who said that fashion only thinks about skinny women? Here are 20 style tips for women plus size …
If you look around it will seem more than normal that the fashion is reserved only for those who wear a size 40. It is true, but not entirely. It is true that most brands think of those who have a body close to perfection by creating collections that are based almost as a catwalk. And who has the curves, who is more abundant, can not play a little with his own style?
Of course yes! Every woman has her faults (even the thin ones, believe me, they have them). Each one, therefore, must find the right solutions and tricks to highlight the strong points and conceal the weak ones. When you have a few extra pounds, when you are curvy, you should never ever cover yourself the best. Rolling into a mega Linus blanket is not the right solution!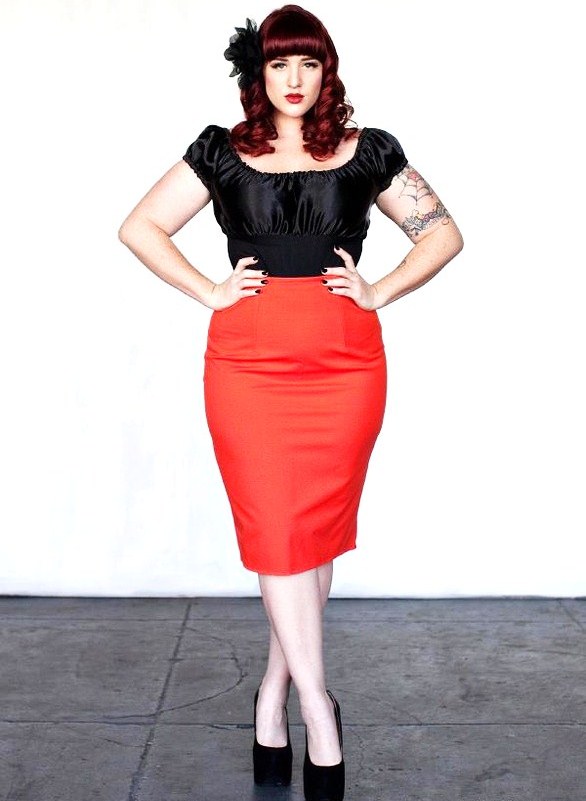 Mind you, it is not even conceivable that those with softer forms are wearing very tight and succinct clothing because the result can only be a catastrophe.
1) First of all, learn to really know your body and identify your form. To do this, read our guide on the shapes of your body.
2) Identified what is your body shape and consequently what are the clothing items and compositions that best fit, avoid the latest trends if they are not in line with your correct way of dressing. As you know, trends always vary a lot; once goes the style of the 50s, then the bell bottoms, then the very short sweaters that reveal the navel … They go out of fashion but that does not mean that you absolutely must dress these things. You will be trendy and always perfect if you follow the style of your body, not that of the catwalks!
3) Regarding trends, it is OK to follow them when it comes to accessories.
4) Emphasize the strong points! Exactly, they must be highlighted. To say, those with a thin waistline can wear a thin belt to give a new silhouette to the silhouette.
5) Play with colors, they are your allies. Using stronger colors on the parts you want to highlight, you will be able to shift your attention from the most critical areas.
6) Laundry shaping. The containment lingerie is another of your allies, always use it with care. Choose the best one because the correct look starts from a good base.
7) Choose clothes in line with your figure. Say no to models too short and especially models too wide! Avoid them!
You may also like: How to dress to look taller, practical advice 
8) Depend on a dressmaker. As we said, most brands work on those who have a minute physique but still offer large sizes. Maybe, trying a certain piece of clothing you will realize that it is not perfect but it fits you and you really like it. At that point, trust a dressmaker so that you can work on your figure. It will cost a little more but you will see that it will be worth it!
9) Remember that the size is purely indicative! Do not be impressed by this also because, from brand to brand, they change and even significantly!
10) What is really important is to know your measurements. Since the sizes are never the same, a good way to know where to go is to know each other to the centimeter.
11) Online shopping is allowed! On the contrary, perhaps of what you think there are many brands that have plus size collections and that sell them online. Suffice it to look at Asos, which is also very trendy;)
12) Change style! Exactly, changing style and look can be just the right solution. And this does not only apply to clothing but also to the look. Try changing your hairstyle.
13) Printed accessories. If you still feel insecure and above all not very trendy, I suggest you give a look to accessories like scarves. They are elegant, sparkling, trendy and can not be bad!
14) Heels, heels and even heels! And not heels of convenience, not anonymous heels, but fabulous shoes special and playful, colorful and unpublished, enriched with sequins and bright details. You will see what a difference. Everyone will notice it!
15) Fantasy look. The prints on the dresses are perfect. Remember the curvy women of the 50s? they wore polka dots, try it too.
16) Play with make up!
17) Choose the right fabrics such as silk and soft and slipped cotton.
18) Forget the rules! Exactly, each one has to check firsthand what is in it and what else is not good for her. High waist, stripes and strong colors may not fit on someone while on others yes!
19) Chocolaty. Exactly, treat yourself to a bit of relaxation and wellness by indulging in some beauty treatments: massages, manicures and pedicures.
20) Do not buy clothes of smaller sizes with the self-promise that one day you will wear them perfectly. No need and above all do not serve. Live in the present and enjoy it!
Who smiles and is well, regardless of size, is always wonderful!
You may also likehttp://trenchpress.com/mother-of-the-bride-style-inspiration-from-celebrity-weddings/
About Author