Blue hair: who they look good on and how to do it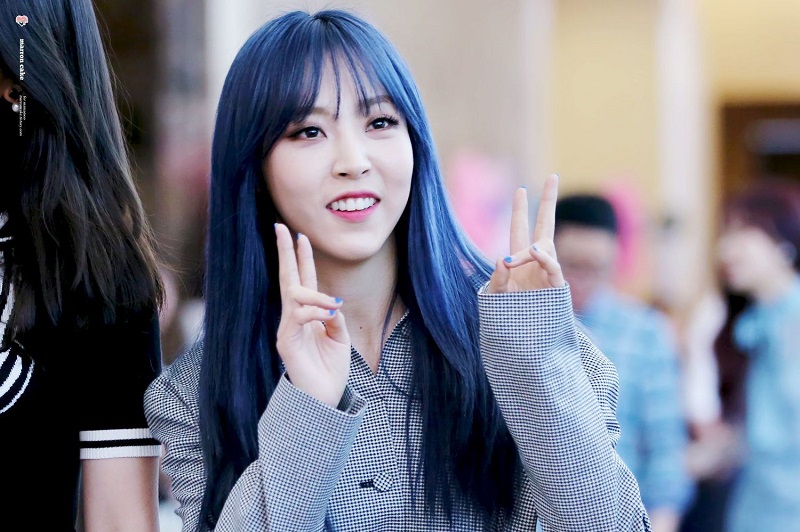 The first to dye her hair blue was the actress  Lucia Bose . In unsuspected times. It was the 90s, she was over 60 (and she was still beautiful as a former Miss Italy that she is!), And she probably wouldn't have imagined that her risque choice twenty years later would prove to be visionary.
Today throngs of young and very young girls aspire to have blue hair. But, as the former beauty queen has amply demonstrated, blue is a color that has no age . The important thing is to "feel it" on you. Yes, because it is still part of the bold colors that acquire and give charm if you wear them with ease.
In the case of white hair, it is a way to take the graying head on: what about the wonderful blue streaks on a hair that would otherwise be salt and pepper?
If, on the other hand, you want to change and switch to a particular hair color, blue becomes an alternative to traditional colors, giving itself a sparkling and decidedly unconventional image. These would be the common reasons why blue hair is so popular.
Easier than gray, less demanding than fuchsia, blue is in fact a color that, in the category of "daring", retains discretion. But who are they good for ? And how are they done ?
WHO THE BLUE HAIR IS GOOD FOR
The answer is not unique, but it depends on the tip of blue you want to wear. The lighter it is, the more it matches the fair complexion, and vice versa. There is a rule to keep in mind: blue is a cool color , so it looks good on women with cool undertones, whether pink or olive. How to tell the difference? Observe the pulse in natural sunlight: if the veins tend to blue / purple, you definitely have a cool undertone; if they tend to green, you have a beige undertone, a feature that doesn't go well with blue.
Yes to blue dye, therefore, if you are pale, diaphanous or lunar, with the foresight to treat your make-up with bright lipsticks and lots of mascara. Also perfect on the dark olive complexion, especially if the chosen blue is the dark one.
Blue hair is not recommended for light to medium golden colors , as it will turn off the brightness.
HOW IS BLUE HAIR MADE?
The procedure varies according to the base color . If your hair is naturally light, such as ash blonde, gray or white, blue dye can be applied directly . Dark hair (brown, brown and black), on the other hand, must first be bleached so that the blue pigment settles more easily. The degree of discoloration depends on the shade of blue chosen. If, for example, you aim for light blue, the hair must be bleached more.
Usually, blue dyes are composed of direct colors, that is, that go away in 6-7 shampoos, or semi-permanent dyes that have a longer duration, but no more than 25-28 washes. And that's a great compromise if you're afraid you don't like blue.
Also remember that the degree of porosity and discoloration of the hair affects the ability to "retain" the color, and therefore to have a prolonged effect.
DARK BLUE TREND
It is a trend that is becoming increasingly popular, so much so that it has also been seen on the catwalk (in the photo a Fendi model, spring summer 2018 fashion shows).
With its shades tending to marine or navy , dark blue gives its best on straight and shiny hair. Generally, it is an ideal color for women with dark complexions and eyes , but if it fades slightly to electric blue or cobalt , it becomes accessible to all others as well.
To keep the blue tint alive , use color sprays or pure pigments diluted in the conditioner or mask you usually use after shampooing.
BLACK HAIR WITH BLUE REFLECTIONS: DEPTH AND CHARM
The blue tint on a raven hair is an idea to soften ebony black or to camouflage white hair with panache. For a gritty effect, opt for contrasting streaks like US TV fashion expert Jeannie Mai.
If, on the other hand, you want to increase the mysteriousness of black, choose a solid color with all-round blue reflections . The effect to aim for is a bit like that of Asian women with their very black hair naturally tending to blue. And don't forget to revive the color with colored hair products, such as specific shampoos and conditioners.
The blue-black hair of many Asian women. Beautiful and shiny, with their elegant mysterious allure.
SHADED BLUE HAIR, A ROMANTIC TOUCH
If, on the other hand, the "full" blue tint seems challenging to you, you can orient yourself towards the very trendy shaded effects this season. They are obtained with green and light blue streaks to be mixed on a blue or gray base, for a mélange result that enlivens every cut. And this is the newest hair trend.
Another idea of ​​wearing shaded blue is to start with a darker blue that "descends" from the hairline towards the roots with gradually lighter tones, such as shatush.