HOW TO COMBINE BLACK BOOTS? MEET POPULAR BIKER STYLE!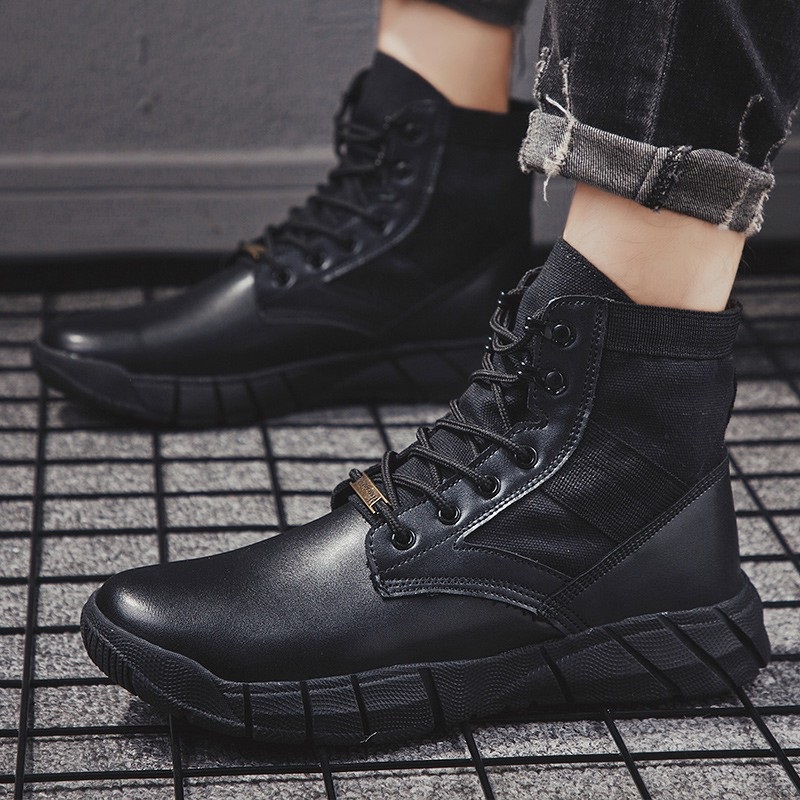 We know that boots are one of the fashionable shoes among gentlemen, in its variety the ones that stand out the most are the black boots including among them the biker style boots. So here we will tell you how to combine black boots:
How to wear black ankle boots
Ankle boots are one of the most versatile types of boots. Coming to or just above the ankle, these shoes are easy to wear and suit a wide range of outfits, including smart and casual looks. To rock a pair of black ankle boots, you must first select your style.
Once you have chosen your boots, the idea is to pair them with jeans or pants and a button-up shirt or sweater, you can wear a black denim jacket and blue jeans. Even with sweatpants, they are perfect, if you combine them with a blue jacket.
HOW TO WEAR BIKER BOOTS
Whether you own a motorcycle or not, a pair of black biker boots can of course be a great addition to your wardrobe.
Typically with low heel and buckle detailing, biker boots look rugged and edgy. For the perfect outfit, he tries pairing a pair with dark skinny jeans and a neutral t-shirt.
Then complete your look with a black leather jacket. It's the perfect outfit for the weekend or a night out at the bar. You can also try wearing a black shearling jacket and navy chinos.
By themselves, these boots look great with simple jeans and a polo shirt in any color, preferably neutral colors, you can pair this outfit with a balloon vest.
HOW TO WEAR BOOTS WITH LACES
For a comfortable fit and stylish look, you can't go past a pair of traditional lace-up boots in their typical black colorway.
Whether worn in leather or suede, these stylish boots look great with a wide range of outfits. Thanks to their slim look and ankle brace, these boots look great with sophisticated styles.
Try pairing them with slim-leg pants, an oxford shirt, and a sweater for a more streamlined outfit.
Another combination can be a white long-sleeved shirt and olive green chinos, a light blue denim jacket with brown jeans.
Even a navy short sleeve shirt and dark green chinos would be a great option. But without a doubt, combining these boots with a mint green double-breasted blazer and dark brown skinny jeans will give you a much more stylish look.
You may also like to read does polyester stretch. To know more visit our Blog https://hdecorideas.com/.
DIFFERENT WAYS TO COMBINE BLACK BOOTS
Once you have selected the type of boots that you will use for your outfit, you have to take into account some tips to show them off to the fullest and set the trend in style and fashion.
The first question everyone asks when wearing boots is whether the pants go inside or outside. Actually, there is no correct answer to that question.
It will depend 100% on the style you want to reflect. If your outfit is more elegant and sophisticated, regardless of whether you wear jeans or dress pants, it is best if they cover the boots.
Therefore, low boots, dress boots, even sports ones, are recommended for these styles. However, you can also opt for pencil pants or skinny jeans, which can be tucked into boots and still keep the look sleek. The boots are versatile, so they will adapt to your look.
Another tip that we give you is that you select the boots according to your height, especially if you are short, a type of boot with a thick sole will make you gain a little height; On the contrary, if you are very tall and your body is larger, boots with flat soles will look better on you.
BIKER BOOTS
Motorcycle boots are made for a practical purpose, to be used as footwear, and to offer protection to the wearer's legs and feet while operating a motor vehicle.
Every man who wears motorcycle boots has his own likes and dislikes. Expensive boots do not necessarily mean that they are more practical, comfortable, or better constructed. Some commercially made boots are built better than others.
HARNESS BOOTS
They are the most common styles of biker boots. These boots come in various heights, but the most common height is 10-12 inches. They feature a rugged look, and the style stands the test of time.
Harness boots have a strap that wraps around the foot through the back of the heel and is attached to a ring on each side, and they usually have a square toe.
SHORTY BOOTS
They are called that simply because they are 25 cm or shorter. In reality, most "shorty" boots are 15 cm to 20 cm high. They are perfect for motorcycling and daily use.
Boots of this design are the most comfortable style of boot ever worn for motorcycle use.
MOTOCROSS BOOTS
They are mainly boots that have additional technical features for use in motocross. These boots are usually tall and secure the area around the foot and calf.
They are perfect for use even off-road and racing. But a very important detail is to keep in mind that some Motocross boots are not very comfortable.
Additional detail is that you should preferably select motorcycle boots that at least cover your ankles. This has two advantages: your ankle is protected and your ankle joint becomes stronger and therefore better able to handle whatever the bike wants to do.
It also helps if the shaft section has shell protection, like a leather lining. Without a doubt, boots with this protection are the safest. It also adds a lot to the durability of the boot. A leather-lined boot will last longer and will be more comfortable to wear all day. A leather lining "breathes" and if fitted correctly will allow ventilation so the boots don't get uncomfortably hot.
TIPS FOR WEARING BIKER BOOTS
Tips for Wearing Biker Boots
– A good fit prevents the heel from lifting and makes driving more comfortable.
– That it has a pad in the heel area. The boot is going to get a lot of wear in this area, so much a pad helps with wear.
– A good sole will be resistant to oil and will provide good traction due to its high contact surface. Roads, particularly asphalt, pick up oil that becomes slippery. Don't buy biker boots without oil-resistant soles.
– Water-resistant. There are some leather motorcycle boots that can be quite water-resistant if properly treated with a good conditioner and water-repellant made for that purpose.
About Author