Style Of Sharon Stone: How To Be Fashionable In 60
One can wear things of the same style year after year, but it is better to learn how to wear elegantly different clothes. An excellent example of how to change their habits, but still remains a worthy role model, shows Sharon Stone. The famous actress managed to win her 60 years of love for fans not only as a masterful game but also as a skill to dress beautifully.
Epatage and awareness of trends
In the past, Sharon Stone rarely appeared at public events in modest clothes. Her dresses were always quite frank and invariably showed an ideal breast. Probably, this is not a tribute to the role of the actress in "Basic Instinct", but her personal preference. The annual events of the world of cinema never failed without discussion of its stylish, but very open outfits, the main highlight of which was almost always an eloquent decollete. However, Sharon knows the sense within the boundaries and never chooses a dress that simultaneously reveals her breasts and legs.
In 1998, Vogue recognized the outfit in which the star appeared at the Oscars, the best of those used by actresses in the history of the ceremony in the XX century. On Sharon was a draped silk pencil skirt from Vera Wang powdery purple and a white shirt that the star, by her own admission, borrowed from her husband. This image will be very helpful this year because a light oversize and male style remains relevant, and purple shades are recognized as the leaders of the season by the Pantone Color Institute.
After a stroke and cerebral hemorrhage, which Sharon suffered in 2001, a long recovery process followed. The star managed to get on its feet both in a direct and figurative sense, re-creating itself and becoming even more attractive. She began to dress easier, but no less stylish. Although there are exceptions here: in January of this year, Sharon appeared at the Golden Globe ceremony in a mermaid silhouette dress with bold geometric inserts made of transparent material in the dcollet, waist and hips zone. By the way, this is one of her favorite types of cut: the material fully covers the body, but nicely extends to the floor.
It is worth noting that, unlike many stars, Sharon prefers real fur, but uses it most often to appear in public. Celebrity skillfully combines fluffy fur coats with elegant trousers.
Check This Out:Style of a Woman after 50 Years
Everyday images of Sharon Stone
It's hard to say how closely Sharon watches trends, but the fact of matching her clothes with the latest fashion trends is obvious. In ordinary life, the star loves the comfort and refined simplicity.
Judging by the things in which she manages to capture the paparazzi, the actress's favorite everyday colors are:
black and white;
various shades of gray;
beige, cream and sand;
pastel shades of pink, blue;
bright turquoise and yellow.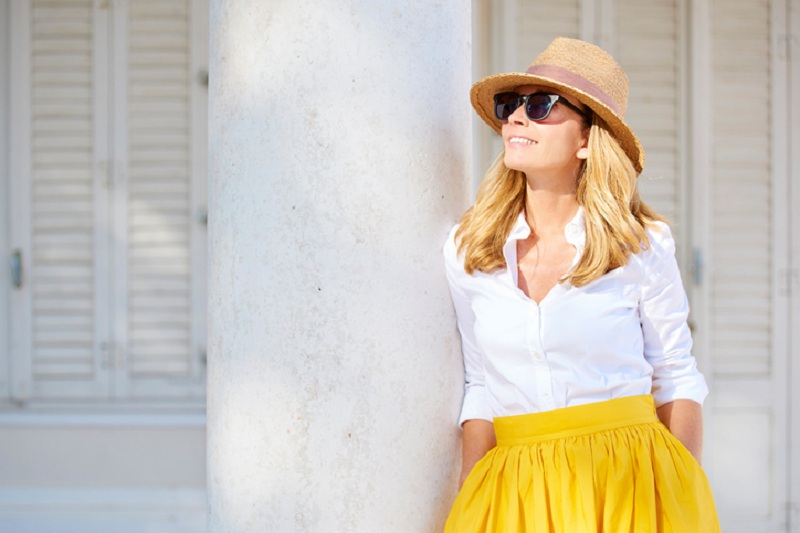 This is an excellent color base for the style of cache, with which the actress is clearly able to handle. This is always said about simple, but at the same time refined everyday images. An excellent figure allows Sharon to wear a skinny. In her wardrobe are many white models that the actress clearly wears with pride and pleasure despite age, complementing them with a comfortable knitted top of neutral shades. Many of the things celebrities fully meet the latest trends of urban style:
Mom-jeans;
trousers of chinos;
pants with stripes;
various jackets;
leather leggings;
shirts in the men's style;
Oxford, slip-on, cheese and shoes with all kinds of straps and lintels as everyday options.
Stylish white chinos with cheerful actor play with the ever-fashionable combination of a similar in color shirt and contrasting pullover with a trendy V-neck. A double top can be replaced by any neat thing in the figure, for example, an ordinary knitted blouse of the simplest cut. On the legs of the Chelsea or Oxford and, what is remarkable, without laces!
Some of the images of the actress are so youthful that it is quite difficult to learn the very same Sharon Stone in her, for example: a gray base t-shirt, high sneakers, a baggy dress in casual style, black straight trousers of loose cut from glossy material, a semi-sports cardigan with a zipper and a huge soft gray scarf check pattern. Surprisingly, the ability of an actress to combine things and wear clothes according to the figure makes such sets very organic even despite her age.
Stone knows how to stylishly combine denim. Fashionable today mom-jeans actress combines with a fitted female shirt dark blue, leaving the top buttons open exactly enough that it was feminine, but not defiant. A simple image is complemented by laconic brutal boots with a low heel and a belt with a metal buckle.
Favorite ornaments of the actress are rings, thin beads or necklaces, but Sharon wears them more often at public events. On weekdays she enjoys using sunglasses. The star likes round lenses and all kinds of color frames.
Keep Reading:http://abxdesigner.com/meet-paper-bag-pants-use/
At the usual time, the celebrity takes with him a fairly capacious bags: a soft version of the saddle on a long strap over the shoulder or any suitable in the image volumetric tote with medium handles. For social gatherings, Sharon chooses neat clutches, which often differ in the most unexpected design.
Repeating images in the style of Sharon Stone from her evening activities from the world of cinema is a risky business. Such an outrage can afford a few, but the daily dresses of the actress will be relevant not only for her peers but also for the younger generation.
Sharon is an amazing woman, who definitely needs to learn and follow her example in the matter of creating simple, fashionable and elegant dresses in the style of casual.
About Author