Women's Pants Fashion Trends Of 2019
Pants should be present in the wardrobe of every woman. Every year they are improved, there are new styles, models. Therefore, the choice will be not so difficult. We prepared for you an overview of women's trousers fashion trends of 2019, with which you will carefully read further.
Modern girls prefer to dress stylishly. They are not so easy to please. In their wardrobe should be things for all occasions. Therefore, each of the fair sex should get a pair of fashionable pants to go to the light in any season.
Fashion trends
Fashion designers to create stylish pants using a variety of fabrics. In the current season among them are very popular:
Velvet;
Silk;
Leather;
Linen;
Wool;
Jacquard.
Among the colors, you can mention the classic colors such as black, white, gray. If you plan to go on a date or for a walk with friends, we suggest wearing pants in chocolate, beige, olive or copper color.
Wide pants
They broke into the fashion world quite recently and are not going to leave it. This style is especially interesting to the fair sex with curvaceous forms because with its help it is possible to hide figure flaws. If you choose the right trousers that will fully fit you, then you can achieve not a bad result. Create an original image will be easy. They can be worn with blouses, bodysuits or T-shirts. As for shoes, they are compatible with sneakers, sneakers, sandals, pumps, shoes. In another way, they are also called the Palazzo.
Narrow
It has long been won the attention of all women. Most suitable for girls with slender legs. They can be combined with a long tunic, with a short blouse. But with the selection of shoes no problems. Here you can choose any.
The only thing that is bad in this style is the inaccessibility for girls who suffer from excess weight. Unfortunately, owners of magnificent forms will not be able to wear tight pants, as they will look ridiculous.
Flare
Who said that flared pants are long out of fashion? Yes, they were popular in the last century, but this did not prevent them from gaining the attention of fashions again. Fashion designers have created models that are perfect for a business meeting, for a walk and so on. They can be combined with blouses, shoes. With these things, you can create an attractive image.
Classic
All business women are familiar with this style. These are straight pants with arrows. Among the colors, it is worth noting black, gray, burgundy and cornflower blue. Classical pants, respectively, it is customary to wear along with other classic clothes. For example, with a jacket, shoes, blouses.
Trousers skirt
This year, the popularity among women won and pants that look like a long skirt to the floor. It is possible to distinguish them only while walking. They are made of various fabrics. Basically, from light and air. They look great with a thin belt. Pants-skirt can be worn by girls with any figure.
Sports
Sports pants are necessarily present in the wardrobe of every girl. They are comfortable to walk around the house, to the store, to nature, and during pregnancy. They are comfortable, lightweight and useful in almost any situation.
Designers have developed a variety of models: short, with cuffs, elastic. Each style is unique in its own way. For sports, it is best to choose loose pants so that they allow movement.
Leather
The sexiest wardrobe items are made from leather. If you want to add yourself some femininity, charm, then wear clothes made of leather. Black is the classic and most popular color for this style. You can combine them with sophisticated shoes and sneakers, which will give the image of brutality.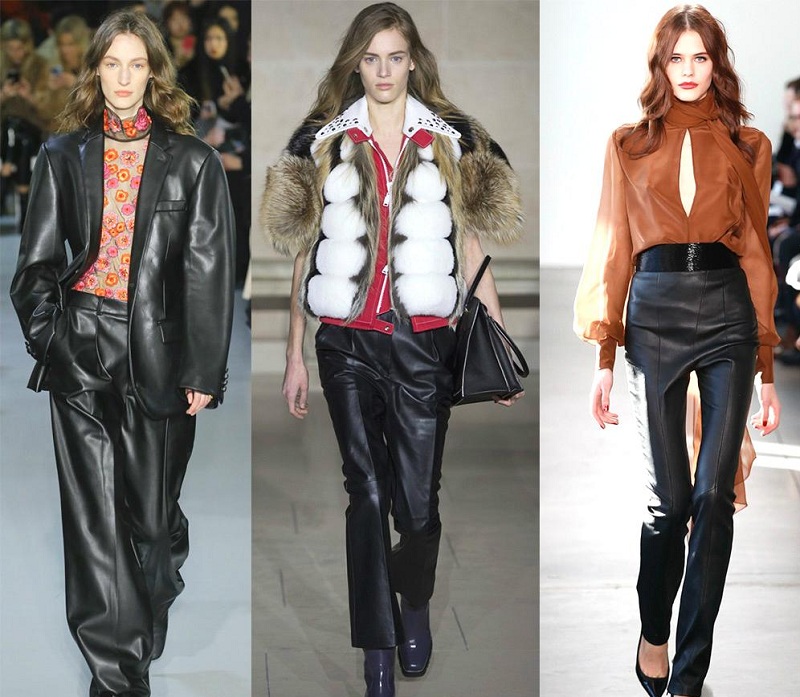 Cellular
Cellular pants also keep up with fashion. The number of models of this type increases every year and amazes everyone with its variety. Almost all of the above styles can be checkered. The brighter the saturated, the more fashionable the image you can create.
Pants for obese women
Fat women may not walk in everything. They need to select certain models that will ideally sit on the figure. Banana pants are perfect for full women. Together with them, you can wear a wide shirt or turtleneck.
We have selected for you the most popular pants that will make any woman the most beautiful and elegant. They are suitable not only slim and thin girls, but also help to hide figure flaws.
About Author